2004 2005 2006 Late Disgorged Three Pack
To celebrate our 40th anniversary, we have disgorged our first three vintages of Blanc de Blancs.
A very special release
2004 - 19 years on yeast lees - was our very first bubbles. It was from a cold, high cropping season - perfect for making sparkling wine. It is an extraordinary wine. Ribena notes, umami yeast lees complexity while remaining super fresh.
2005 and 2006 follow in the same vein as the 2004. Although from warmer seasons. The length of time on lees has brought delicious complexity to these wines.
These three wines were disgorged by Andrew and Shaun at Gembrook Hill in late May 2023.
Please note - this is a three pack containing one wine from each vintage
Vintage Details
The 2005 vintage had a growing season of two distinctive climate halves. The spring and half of summer were cool and wet with record rainfalls in early February. Then the weather changed and we had a dry and mild autumn. The vintage commenced in the second week of April. The cropping levels were moderate with good flavour profile due to the mild ripening period and great colour accumulation in the pinots. The unusual thing about this vintage was that the sugar levels were always ahead of the flavour levels. This meant that picking by flavour gave us a higher alcohol content compared to normal years.
Picked: 26th February 2004
Blend: 100% Chardonnay
Alcohol: 11.5%
Tech Specs: pH: 3.0 TA:12
Cellaring: Delicious Now
Closure: Diam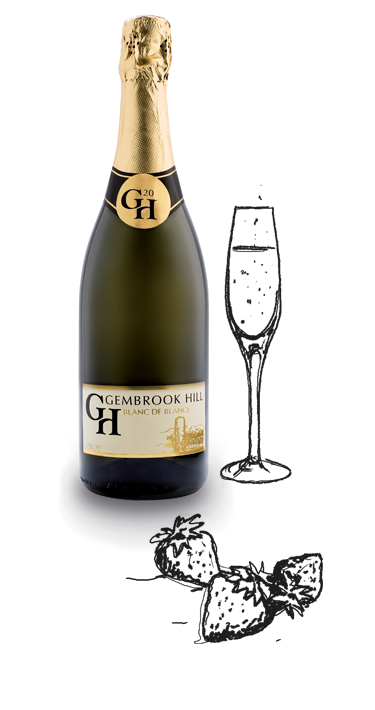 Comments
A three pack containing a bottle each of 2004, 2005 & 2006 late disgorged Blanc de Blancs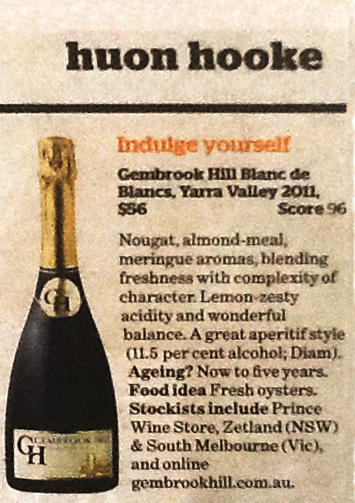 2011 Blanc de Blancs
Nougat, almond-meal, meringue aromas, blending freshness with complexity of character. Lemon-zesty acidity and wonderful balance.
Huon Hooke
The Age – Goodfood Guide / July 12, 2016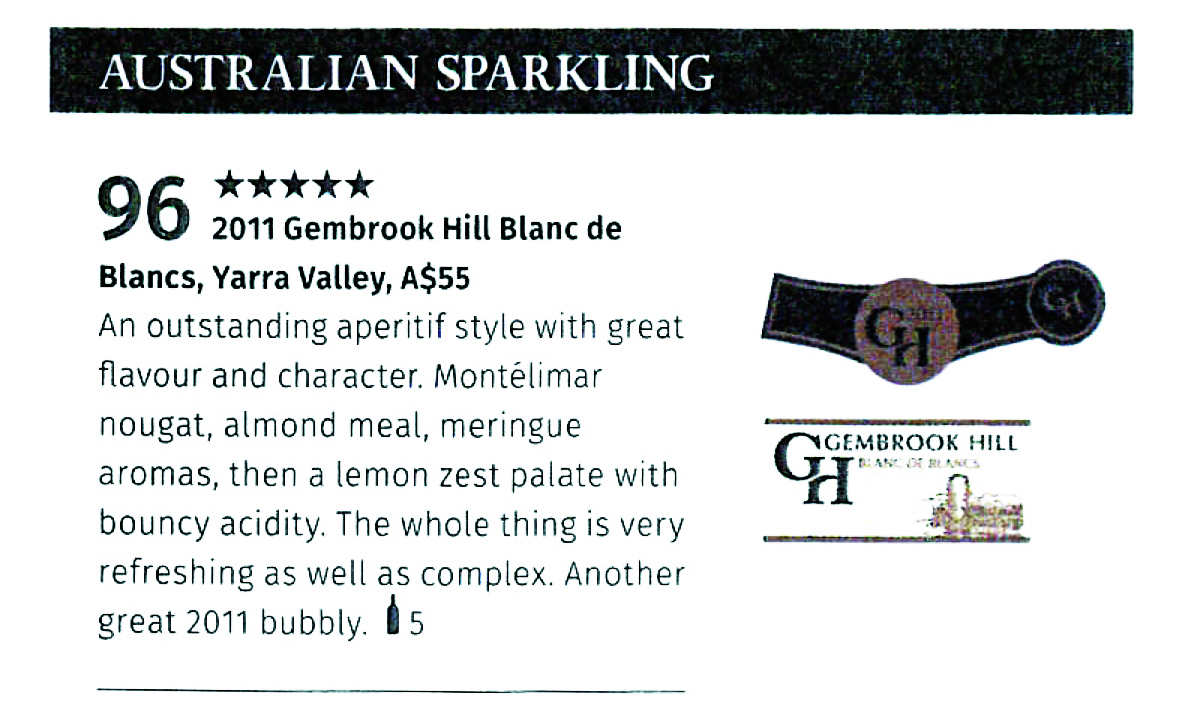 Gembrook Hill in 100 Top New Releases
Gourmet Traveller Wine
100 Top New Releases
2011 Gembrook Hill Blanc de Blancs
"An outstanding aperitif style with great flavour and character. Montélimar nougat, almond meal, meringue aromas, then a lemon zest palate with bouncy acidity. The whole thing is very refreshing as well as complex. Another great 2011 bubbly."
September, 2016