2021 IJM Pinot Noir
In 2017 the visceral reaction to the sudden death of Ian was to produce a wine in his honour. This was a tiny batch of Pinot Noir drawn from a portion of the oldest Pinot vines on the property, and a third drawn from the newest MV6 young vines. This blend represented something of the snake eating its own tail – the Ouroboros or symbol for eternal cyclic renewal. In other words, recognition that Gembrook Hill had become a legacy vineyard for our family. The IJM, Ian James Marks, was made as a pure expression of site, matured in old French oak to allow terroir to shine through. A quintessential vigneron's wine, to reflect Ian's passion for the vineyard.
Vintage Details
Picked: 10th of April 2021
Alcohol: 13%
Tech Specs: pH: 3.6 TA: 5.4gL
Cellaring: 10-15 years
Closure: Diam
Review - 2017 Gembrook Hill IJM Pinot Noir
95 Points
Fairly light colour with a bright, youthful purple/red hue. The bouquet is wonderfully perfumed; hauntingly fragrant, with strawberry, red cherry, floral notes. Full marks for pinosity. It's light to medium-bodied and intense, with a long carry. Delicious wine with very pure fruit. It has fine tannin, good structure and could live surprisingly well. (A new wine commemorating the passing of co-founder Ian Marks) 30/6/2019
Drink 2019 to 2029
Huon Hooke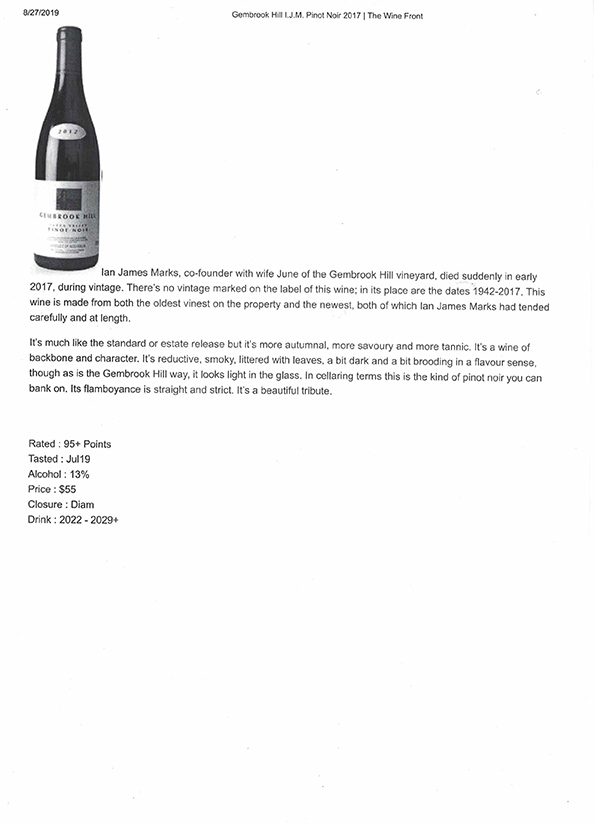 Campbell Mattinson's review of the 2017 IJM Pinot Noir
Ian James Marks, co-founder with wife June of the Gembrook Hill vineyard, died suddenly in early 2017, during vintage. There's no vintage marked on the label of this wine; in its place are the dates 1942-2017. This wine is made from both the oldest vinest on the property and the newest, both of which Ian James Marks had tended carefully and at length.
It's much like the standard or estate release but it's more autumnal, more savoury and more tannic. It's a wine of backbone and character. It's reductive, smoky, littered with leaves, a bit dark and a bit brooding in a flavour sense, though as is the Gembrook Hill way, it looks light in the glass. In cellaring terms this is the kind of pinot noir you can bank on. Its flamboyance is straight and strict. It's a beautiful tribute.
Rated: 95+ Points
Tasted: July 19
Alcohol: 13%
Price: $55.00
Closure:Diam
Drink: 2022 - 2029+