2022 JKM Pinot Noir
Following on from the 2018 inaugural release we are pleased to offer the third vintage of the JKM Pinot Noir.
Again more of a winemaker's wine. The intention for this wine is to explore both new viticultural and wine making techniques, while still capturing the essence of the vineyard. The viticultural technique is shoot selection - a refinement of shoot thinning which we have always used in the vineyard. This serves to open up the canopy, reducing disease risk and increasing sunlight into the canopy, while producing more intense fruit. The winemaking technique is the use of some whole bunch fermentation from our newest plantings of Pinot which was then matured in a new French hogshead. This made up a third of the wine while the rest comes from destemmed young vine fruit. There were two barrels of this, both matured in old french oak.
The result is a bold, complex, aromatic Pinot with plenty of flavour.
Vintage Details
Picked: 10th of April 2022
Blend: 100% Estate Grown Pinot Noir
Alcohol: 13%
Tech Specs: pH: 3.65 TA: 5.4gl
Cellaring: 10-15 Years
Closure: Diam Cork
Review - 2017 Pinot Noir
Light red/purple hue. Very spicy, smoky, fragrant aroma, lifted and fresh but also multi-layered, with some spicy cedary and smoky/toasty barrel scents plus whole-bunch, the palate light-bodied and fresh, vibrant and lightly smoky from oak and stem influences. Long carry, firm finish, with succulent fruit and a clean and resounding cut-off. Excellent. 30/6/2019
Drink 2019 to 2029
Huon Hooke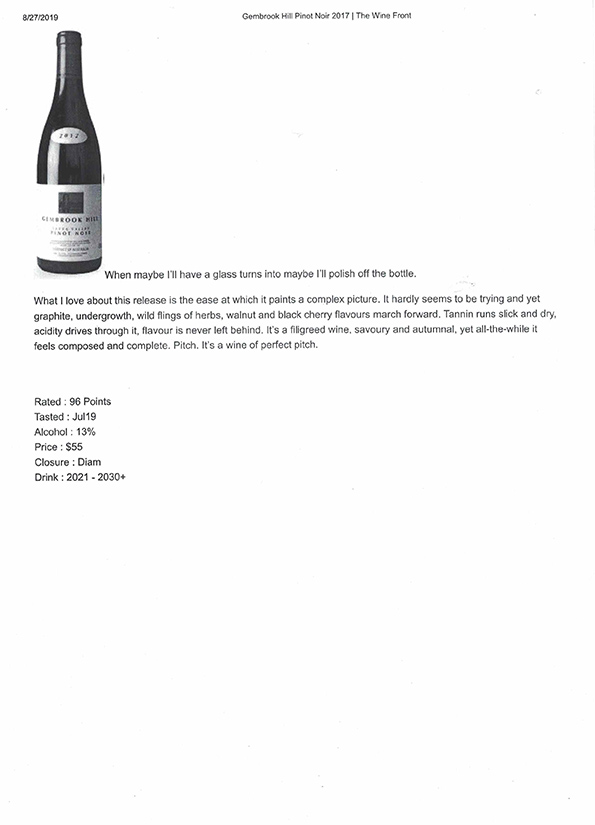 Campbell Mattinson's review of the GH 2017 Pinot Noir
When maybe I'll have a glass turns into polish off the bottle.
What I love about this release is the ease at which it paints a complex picture. It hardly seems to be trying and yet graphite. undergrowth, wild flings of herbs, walnut and black cherry flavours march forward. Tannin runs slick and dry, acidity drives through it, flavour is never left behind. It's a filigreed wine, savoury and autumnal yet all-the-while it feels composed anti complete. Pitch. a wing of perfect pitch.
Rated: 96 Points
Tasted: July 19
Alcohol: 13%
Price: $55.00
Closure:Diam
Drink: 2021 - 2030+